Warning: mktime() [function.mktime]: It is not safe to rely on the system's timezone settings. You are *required* to use the date.timezone setting or the date_default_timezone_set() function. In case you used any of those methods and you are still getting this warning, you most likely misspelled the timezone identifier. We selected 'Europe/Berlin' for 'CEST/2.0/DST' instead in /home/lbtimesp/public_html/libraries/joomla/utilities/date.php on line 117

Warning: date() [function.date]: It is not safe to rely on the system's timezone settings. You are *required* to use the date.timezone setting or the date_default_timezone_set() function. In case you used any of those methods and you are still getting this warning, you most likely misspelled the timezone identifier. We selected 'Europe/Berlin' for 'CEST/2.0/DST' instead in /home/lbtimesp/public_html/libraries/joomla/utilities/date.php on line 245

Warning: date() [function.date]: It is not safe to rely on the system's timezone settings. You are *required* to use the date.timezone setting or the date_default_timezone_set() function. In case you used any of those methods and you are still getting this warning, you most likely misspelled the timezone identifier. We selected 'Europe/Berlin' for 'CEST/2.0/DST' instead in /home/lbtimesp/public_html/libraries/joomla/utilities/date.php on line 249

Warning: strftime() [function.strftime]: It is not safe to rely on the system's timezone settings. You are *required* to use the date.timezone setting or the date_default_timezone_set() function. In case you used any of those methods and you are still getting this warning, you most likely misspelled the timezone identifier. We selected 'Europe/Berlin' for 'CEST/2.0/DST' instead in /home/lbtimesp/public_html/libraries/joomla/utilities/date.php on line 250
Wednesday, 14 April 2010 07:50 Written by Administrator
About Us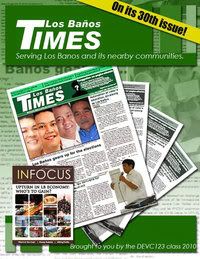 The Los Baños Times, an annual community newspaper published by students taking DEVC123 (Management and Production of a Community Newspaper) serves the municipality of Los Baños and its nearby communities. Now releasing its 30th issue, the Los Baños Times continues to render quality service to readers. For almost three decades, it has provided relevant information through the news and feature articles it has published.

The paper reflects and heralds the views of the people of Los Baños and the status of adjacent towns. In its continuous efforts towards the development of communities, the Los Baños Times strives to address the locality's socio-politico-economic issues, as well as, science and research concerns.
LB Times would also like to thank Sir Sherwin Joseph Felicidario for helping us make this website possible.